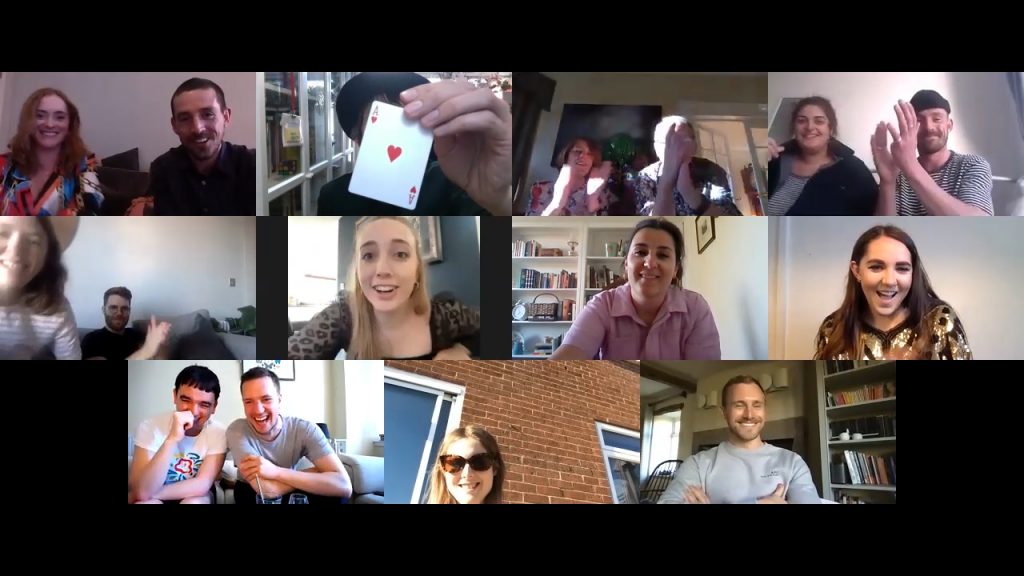 A Zoom Magic Show is the perfect way to liven up your virtual corporate events (and private ones too), from team-building events and networking events to birthdays and after-work drinks. Pete's virtual magic and mind reading show is fast paced, fun, and genuinely astonishing. It's fully interactive too, and gets the whole team involved.
How does it work? : You either set up a Zoom meeting, or Pete does it for you. You and your friends or colleagues fire up your computers, gather round your screens and get comfortable. Maybe someone even joins from abroad. Then the virtual magic show begins. Sure, you can't actually PICK a card, but you can think of one…….Or maybe you think of a word. Any word. Or any number. Or anything at all…….Pete not only guesses it, but shows beyond any doubt that he predicted it all before the call even began.Don't think that's possible? Try it and see.
There is visual magic here too, but this is nothing like watching a Youtube video. The magic relates to YOU. You are involved, and, as a result, you are way more invested. Also, it's live, so you know for a fact that there's no creative editing going on. What you see is what's actually happening. Sounds good, right?
Pete offers a few different packages, from a fast-paced 15 minutes of magic and mind reading, to a 30 minute or 45 minute show. There's also the option of a full 60 min team building experience and even a fully bespoke customised show.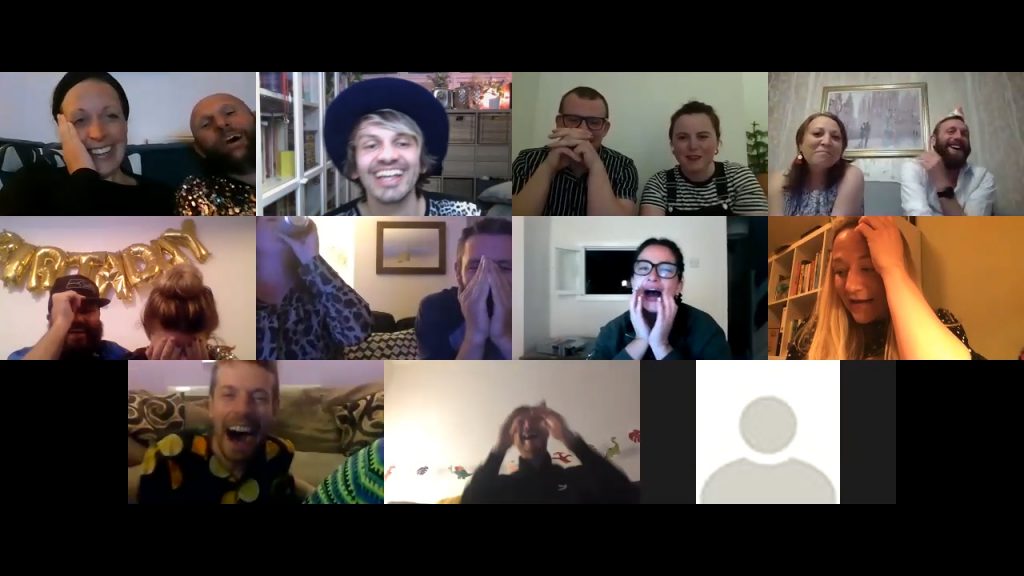 Pete is the star of a number of TV magic series and you can currently watch him in Around The World in 80 Tricks (Amazon Prime), School Of Hard Tricks (BBC3, available on iPlayer), and Secrets Of The Brain (Insight HD, Sky).
He also taught Dumbledore (well, Jude Law, who talked about Pete on the Graham Norton show after he hired Pete as his sleight of hand consultant for Fantastic Beasts 2).
"We were blown away by our Zoom session with Pete, his tricks are insane."
Katie Humphrey
"Pete's Zoom magic show was mind blowing. We can't stop talking about it. I can't recommend him highly enough"
Katherine Vile
"Best Zoom meeting Ever!!"
Debbie Fullick
"What a fabulous virtual event. Pete, you were great and very engaging."
Kristie Traas
"Have never seen better close up magic than this lanky dude."
Dawn French, London
"I have so much respect for what you do."
Marcus Mumford, Mumford & Sons
"You are a credit to your profession, you really are – you are not only fab at what you do, but a really lovely person too and that makes such a massive difference – I was nervous how it was going to work but I had no need to at all and would not hesitate to book you again. Honestly, nearly every single person made comment about how great the magician was and several have asked for your details"
Laura Musselwhite, London
"Pete's a truly gifted close-up magician and entertainer… Just watch any of his videos to see for yourself how good he is."
Tom Robinson, BBC 6 Music Presenter
"Exactly what I was hoping for and more…"
Tom Simpson, Google, London
Performers our Performers and Us Have Worked With:   Ed Sheeran  I  James  I  Marcus Mumford  I  Atomic Kitten  I  Carey Mulligan  I  Michael McIntyre  I  Dawn French  I  Paloma Faith  I  Sam Smith  I  Rita Ora  I  The Spice Girls  I  Matthew and The Atlas  I  Grace Carter  I  Lulu  I  Sigala  I  Florence & The Machine  I  James Morrison  I  Ed Sheehan  I  Paolo Nutini  I  Newton Faulkner  I  Mumford and Sons  I  Jamie Lawson  I  Gabrielle  I  Jude Law  I  The Specials
Performers our Performers and Us Have Worked With:   Ed Sheeran  I  James  I  Marcus Mumford  I  Atomic Kitten  I  Carey Mulligan  I  Michael McIntyre  I  Dawn French  I  Paloma Faith  I  Sam Smith  I  Rita Ora  I  The Spice Girls  I  Matthew and The Atlas  I  Grace Carter  I  Lulu  I  Sigala  I  Florence & The Machine  I  James Morrison  I  Ed Sheehan  I  Paolo Nutini  I  Newton Faulkner  I  Mumford and Sons  I  Jamie Lawson  I  Gabrielle  I  Jude Law  I  The Specials