BAND / THE DIAMOND BOYS
Bringing more Talent, Fun and Magic to your day than you ever thought possible!
ABOUT THE DIAMOND BOYS
The Diamond Boys are an incredible acoustic covers group and an extremely handsome talented and hugely likeable bunch of guys too. With their exceptional musicianship and infectious personalities, they never fail to bring a smile to the faces of everyone who hear them. The guys first got together to bring a more personal musical touch to any occasion and will interact with you and your guests in the most brilliantly natural way, while bringing you fantastic versions of songs from every era of pop music. Whether it's old school classics, laid back lounge or modern day dance that you require, the Diamond Boys will perfectly tailor the setlist to suit exactly what you want to hear.
THE FINER DETAILS:
The Diamond Boys are the perfect solution for an afternoon drinks reception – they are totally unplugged, meaning they are not tied to a stage or specific area, this also means there is zero set up time. They roam around your guests charming them with their out-of-this world talent and charisma. Their standard set lengths are 2 x 45 minutes but can be tailored to the needs of the client. They also work incredibly well during dinner parties and meals, roaming around tables and playing in between or during courses. For more of a late night party atmosphere, the band can be amplified and set up on a stage for an out of this world performance. A live music consultation is available to discuss your needs.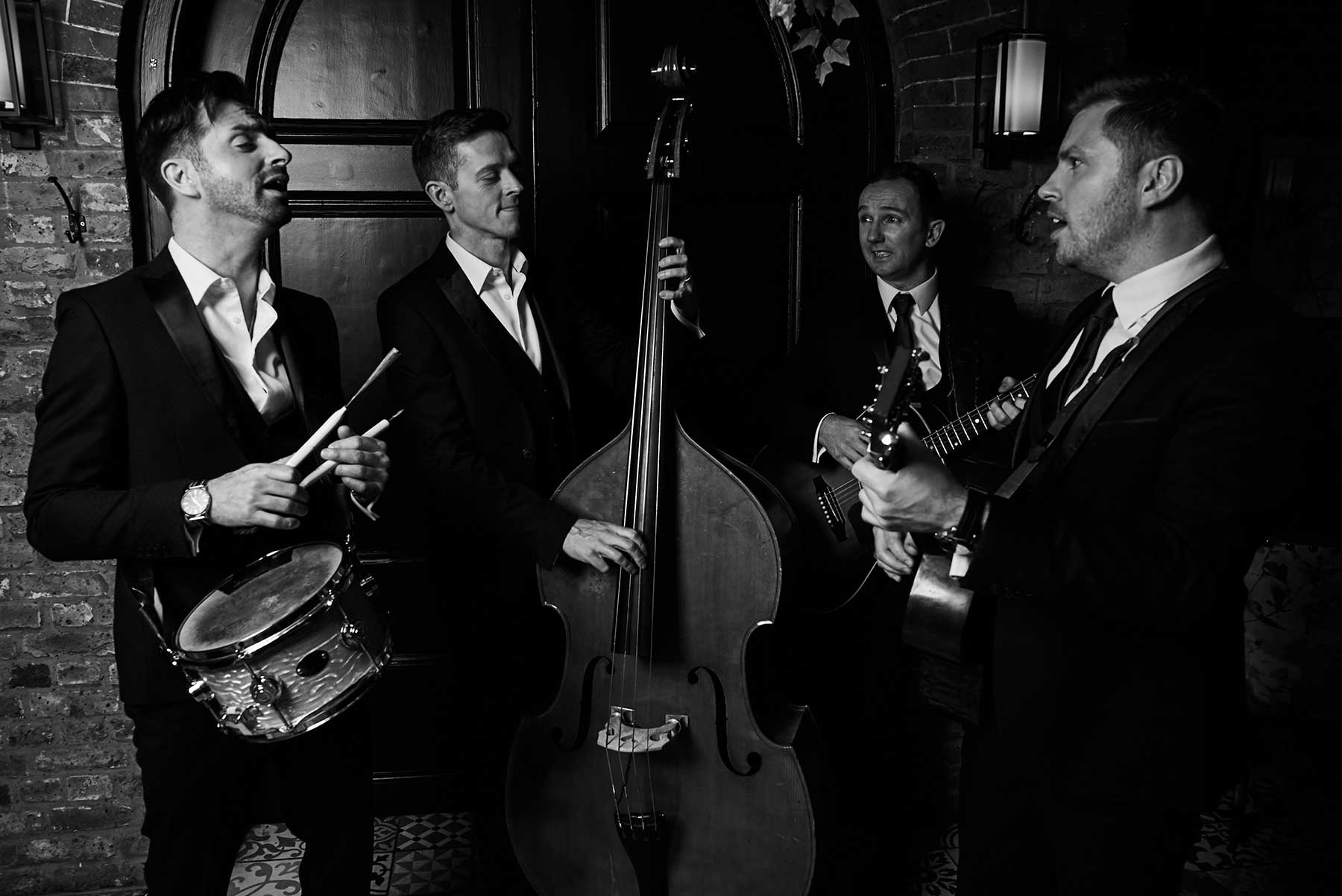 "I just can not get over how amazing you are and your acts. I feel overwhelmingly privileged to have had both The Diamond Boys and Waiters at the wedding and i just wanted to thank them so so much and you. Raw talent just seems to come so natural to them! Aswell as been such lovely genuine people. Anyway…so sorry about my emotional ramble i just needed you to know I had the most amazing day of my life and you and your acts were a HUGE part of that and i shall never forget it"
Kelly Hailstone
"The Diamond Boys were amazing!  The delegates really enjoyed them and they really added a great vibe! Thanks for your help and am sure I will be in touch in the future!"
Julie Rowlands, Microsoft, London
"OMG, The Diamond Boys were AMAZING!! We loved them, all the guests loved them, the hotel loved them and the wedding planner loved them..they really made the wedding!"
Ellie Wilkerson, London
"The Diamond Boys were fantastic and really enjoyed by all the guests."
Amy Whitling, Event Manager, Royal Chelsea Group
Performers our Performers and Us Have Worked With:   Ed Sheeran  I  James  I  Marcus Mumford  I  Atomic Kitten  I  Carey Mulligan  I  Michael McIntyre  I  Dawn French  I  Paloma Faith  I  Sam Smith  I  Rita Ora  I  The Spice Girls  I  Matthew and The Atlas  I  Grace Carter  I  Lulu  I  Sigala  I  Florence & The Machine  I  James Morrison  I  Ed Sheehan  I  Paolo Nutini  I  Newton Faulkner  I  Mumford and Sons  I  Jamie Lawson  I  Gabrielle  I  Jude Law  I  The Specials
Performers our Performers and Us Have Worked With:   Ed Sheeran  I  James  I  Marcus Mumford  I  Atomic Kitten  I  Carey Mulligan  I  Michael McIntyre  I  Dawn French  I  Paloma Faith  I  Sam Smith  I  Rita Ora  I  The Spice Girls  I  Matthew and The Atlas  I  Grace Carter  I  Lulu  I  Sigala  I  Florence & The Machine  I  James Morrison  I  Ed Sheehan  I  Paolo Nutini  I  Newton Faulkner  I  Mumford and Sons  I  Jamie Lawson  I  Gabrielle  I  Jude Law  I  The Specials