ABOUT GEORGIE
London based DJ Georgie has played at all the cool London clubs, festivals and parties during her career; working for a whole host of celebrity clients and brands including: Anya Hindmarch, Cartier, De Beers, Nick House, Ralph & Russo, Red Bull, Scarlett Johansson, Shazam, Soho House Group, Sony Playstation, Tag Heuer, UK Music Video Awards and Zoe Jordan.
Georgie has built up quite a name for herself over the last decade and her varied taste in music showcases in her eclectic sets dependent on her client's request. Be it vinyl or digital she has it covered and plays everything from all the old classics to the latest undiscovered remixes & disco / lounge vibes / house / rnb / hip hop & party favourites.  Due to this & her infectious energy she is always highly in demand & being booked for all the coolest events & parties worldwide.  She currently plays regularly at the likes of Nobu, Soho House & The W Hotel in London and holds a summer residency at The Hacienda San Rafael in Andalusia playing for all their big international weddings.
Working by day in advertising, she is one of the go to DJs for all the key industry events & award shows worldwide; notably Cannes Lions where her schedule is back to back, playing all the major parties, including hosting her own event which has become the after party of the festival.
Georgie also does customised playlists & DJ mixes for many of her clients on request and has been a music contributor for hip online US publication – www.1985artists.com for the past couple of years.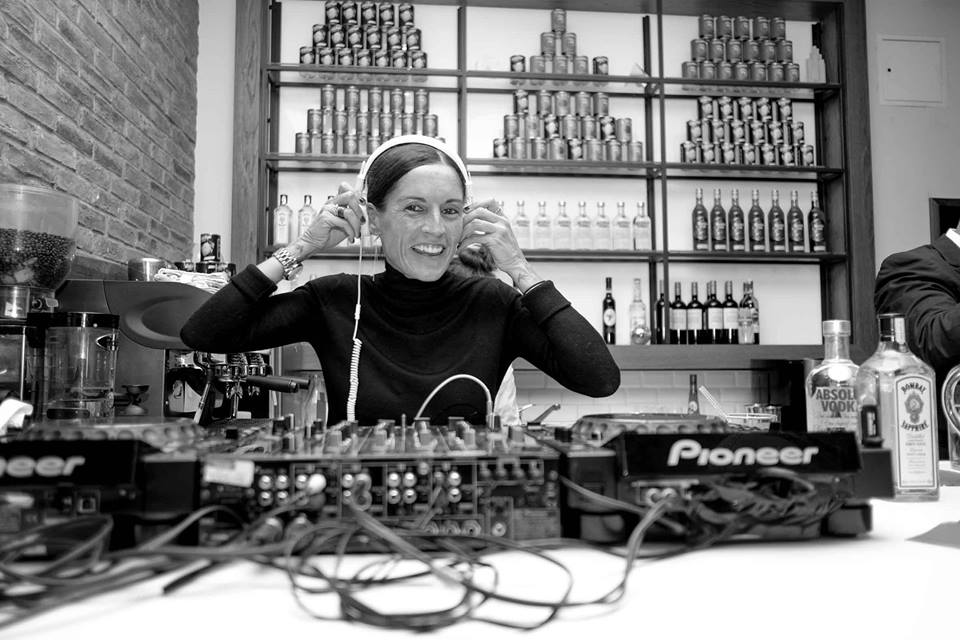 "We really were pinching ourselves the whole evening. They atmosphere Georgie created with her amazing tunes was more than palpable than we could have ever imagined. We always dreamed of our amazing day culminating in a party that left everyone grooving until the earlier hours of the morning and Georgie did exactly that."
Ed & Steph – Spanish Wedding
"She looks great, plays amazing music and gets the crowd going till the early hours."
Harry Becher, Quintessentially
"Georgie made our wedding so special. Music was such an important part of the day and we felt so overwhelmed initially by the choice and all the different decisions to make. Georgie made it all so simple and helped to make the most incredible playlist. even helping with the ceremony songs. And when it was time to party she totally lit up the room, not a single guest wasn't on their feet when she was on the decks. She's an amazing DJ and the most lovely person. We really can't thank her enough."
Emma & Shane
"It's difficult to imagine the UK Music Video Awards after party without Georgie. She nails tune after tune, reading the crowd perfectly and creating a vibe that keeps the party going and gets even the shyest guests on to the dance floor. They can't resist her!" She's extremely easy to work with – professional, organised, patient and kind. We feel very lucky to have her:
Louise Stevens, UKMVA's
Performers our Performers and Us Have Worked With:   Ed Sheeran  I  James  I  Marcus Mumford  I  Atomic Kitten  I  Carey Mulligan  I  Michael McIntyre  I  Dawn French  I  Paloma Faith  I  Sam Smith  I  Rita Ora  I  The Spice Girls  I  Matthew and The Atlas  I  Grace Carter  I  Lulu  I  Sigala  I  Florence & The Machine  I  James Morrison  I  Ed Sheehan  I  Paolo Nutini  I  Newton Faulkner  I  Mumford and Sons  I  Jamie Lawson  I  Gabrielle  I  Jude Law  I  The Specials
Performers our Performers and Us Have Worked With:   Ed Sheeran  I  James  I  Marcus Mumford  I  Atomic Kitten  I  Carey Mulligan  I  Michael McIntyre  I  Dawn French  I  Paloma Faith  I  Sam Smith  I  Rita Ora  I  The Spice Girls  I  Matthew and The Atlas  I  Grace Carter  I  Lulu  I  Sigala  I  Florence & The Machine  I  James Morrison  I  Ed Sheehan  I  Paolo Nutini  I  Newton Faulkner  I  Mumford and Sons  I  Jamie Lawson  I  Gabrielle  I  Jude Law  I  The Specials