HEATHER SAX
Sultry, stonkin', stealthy, subtle, screaming… always the tallest  player in the room and never anything less than uberglam, 

ABOUT HEATHER
Heather's musical odyssey began with modest motives – to avoid doing the washing up and to play something louder than her brother. But from there, her hopes and dreams  grew a little more ambitious. Her passion for performance took Heather to Trinity College of Music, where she built a solid grounding in jazz and her credentials have blossomed  ever since.
With a repertoire that encompasses not only jazz, but also Latin, breakbeat, hiphop, dance and classical capabilities, Heather's talents have seen her rub shoulders with  musical royalty and celebrities alike. That includes performing with Roy Ayres in Harlem, sharing the stage with Madness, Michael Franti, Marcus Printup, the Ronnie  Scott's All Stars and The Drifters, and even a gig alongside Jools Holland, Brian Ferry,  Nigel Kennedy, Lulu and the incomparable Lou Reed.
Heather has entertained the great and the good at the UEFA Cup Final in Athens, wowed  Lewis Hamilton at the Abu Dhabi Grand Prix, had the red carpet rocking with Norman Jay  at the Cannes Film Festival and set superstars swinging at the Mercury Music Awards. Wherever she plays, a party's guaranteed, and she's provided the musical accompaniment  to bashes hosted by the Beckhams, Al Pacino, Ralph Fiennes, Daniel Craig, Robbie  Coltrane, Gwyneth Paltrow and Stella McCartney.
However far she travels, and however celebrated the audience, Heather's heart still beats  to the rhythm of jazz, and she's often found playing in the genre's spiritual home – Ronnie Scott's legendary club in Soho.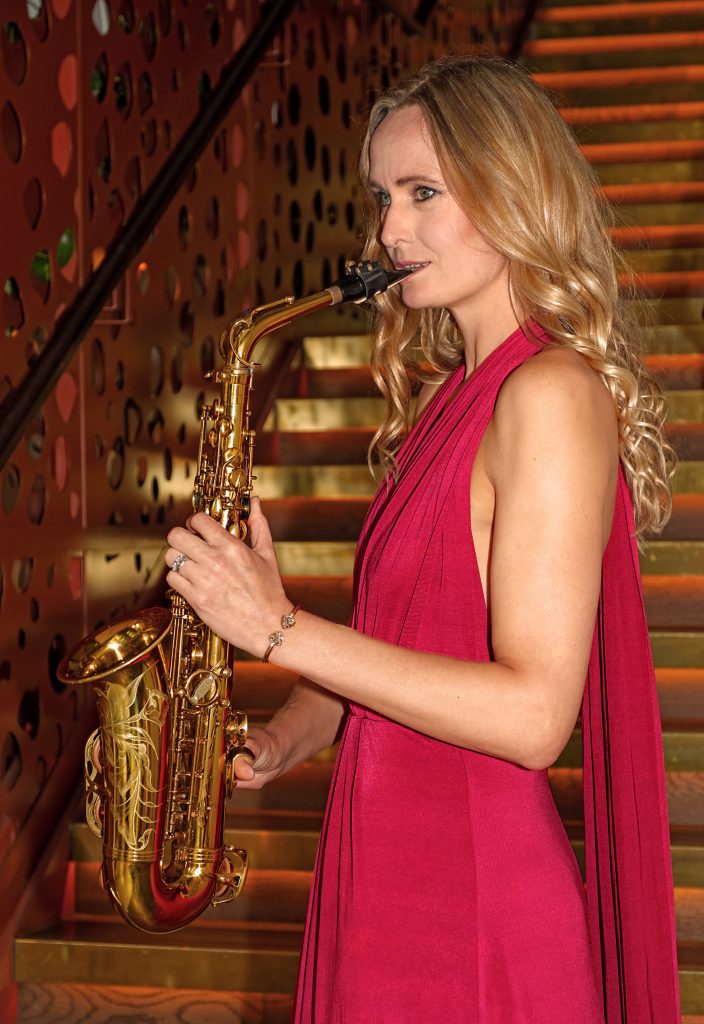 Nice to know…….
Following a meeting with Richard  Branson at a Virgin party in Shanghai,  Heather was flown firstclass to  Australia to perform overlooking  Sydney Harbour.
Her favourite venue is always Ronnie  Scott's – appearing there gives her  goosebumps to this day.
Amy Winehouse was a gatecrasher at  one of her gigs, and ended up sitting  on Heather's knee, demanding to be  taught to play the soprano sax , she  was a fast learner apparently.
She once performed in a polar bear  suit at a Christmas party in Antwerp.
Heather describes herself as 'very  tall with a passion for balsamic vinegar'. But the two are apparently unconnected.
Mixology menu 
Sultry solo sax
Mix with a DJ
Fabulous trio, quartet and quintet line ups
"Amazing addition to our drinks reception"
Martin Katz
" She was incredible!! "
Sally Iddles
Performers our Performers and Us Have Worked With:   Ed Sheeran  I  James  I  Marcus Mumford  I  Atomic Kitten  I  Carey Mulligan  I  Michael McIntyre  I  Dawn French  I  Paloma Faith  I  Sam Smith  I  Rita Ora  I  The Spice Girls  I  Matthew and The Atlas  I  Grace Carter  I  Lulu  I  Sigala  I  Florence & The Machine  I  James Morrison  I  Ed Sheehan  I  Paolo Nutini  I  Newton Faulkner  I  Mumford and Sons  I  Jamie Lawson  I  Gabrielle  I  Jude Law  I  The Specials
Performers our Performers and Us Have Worked With:   Ed Sheeran  I  James  I  Marcus Mumford  I  Atomic Kitten  I  Carey Mulligan  I  Michael McIntyre  I  Dawn French  I  Paloma Faith  I  Sam Smith  I  Rita Ora  I  The Spice Girls  I  Matthew and The Atlas  I  Grace Carter  I  Lulu  I  Sigala  I  Florence & The Machine  I  James Morrison  I  Ed Sheehan  I  Paolo Nutini  I  Newton Faulkner  I  Mumford and Sons  I  Jamie Lawson  I  Gabrielle  I  Jude Law  I  The Specials